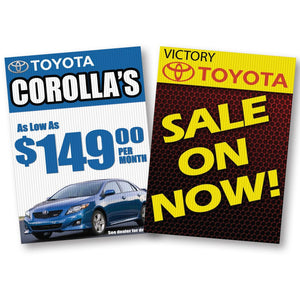 Custom Full Color Jumbo Signs
Full Color Custom Signs are the prefect thing to promote your product.
Available with single or double sided imprint..
Stock: 5 mil corrugated plastic.
Weight: Due to the oversized nature of these signs, shipping charges are based on size rather than weight.
Size: 29" x 41"
Send an email (sales@starradvertising.com) or give us a call (740-439-2632) and let us know what you want.
One Sided as low as $28.00 per sign.
Two Sided as low as  $48.00 per sign.
There is a two sign minimum.